First Aid Kit "Urban"
€180.00
Description
DETAILS:
the contents of the kit allows you to provide timely and safe assistance for various types of injuries and emergency conditions: cardiac arrest, bleeding, chest injuries, hypothermia.
the basis of the set is a modern equipment, which we collected from Germany, Israel, the USA and Ukraine. During its development, the main priority was the quality of the components, not a low price.
kit is available in black, dark green and yellow colours.
the set comes in one of two complete sets, at the buyer's choice:
– with shoulder strap.
– with MOLLE system for attachment to a backpack, bicycle or belt.
ITEMS:
Pocket Resuscitation Mask with One Way Valve – 1 pc
Reliance Medical Rebreath One Way Valve – 1 pc
Gloves – 2 pairs
Rescue Blanket – 1 pc
SICH Turniqet – 1 pc
6" Israeli Bandage with Pressure Bar – 1 pc
Hemostatic Bandage – 1 pc
H-Bandage Compression Dressing – 1 pc
Fibra Medical Handkerchief – 1 pc
Sterile Bandage 7×14 – 2 pcs
Marker – 1 pc
Safety Scissors – 1 pc
Eye Shield – 2 pcs
Patch – 1 pack
Case – 1 pc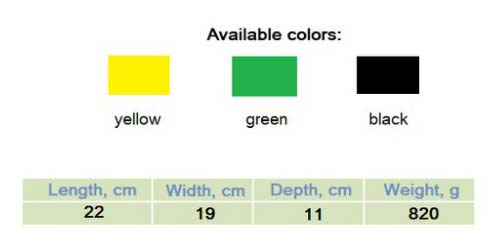 ---